Eurogamer posted an article today stating that there is a great possibility that a Halo movie will be released in 2012. The movie is speculated to be based on the book Halo:Cryptum which is the first book in the forerunner series.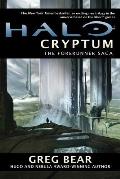 Quotes from Eurogamer:
"A film adaptation is set in 2012. It will be conducted jointly by two heavyweights of American cinema: Steven Spielberg and Dreamworks."

"Fans are speculating that the Halo movie, if real, will be based on the Cryptum novel, the first book in the Forerunner Saga by Greg Bear."
Hopefully we will here more about it soon.