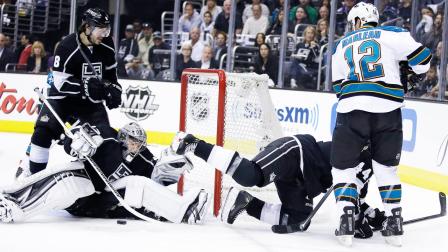 The Kings take the first game against the San Jose Sharks for the Western Semi Finals for the Stanley Cup, and there are so many things about this game that speak to how determined L.A. is to bringing back the cup for another year. Now some of you are like "Oh Joey, who cares about Hockey?" and the answer is I do so now you will have to read about it.
If you watched the game then you know if the first few minutes of the first period things looked grim as the Sharks offensive was relentless pushing Quick to boundaries no goalie should have to face that soon in the game. The Kings however were able to soon pull together as a team behind the amazing skills of Voynov, who would come to score both goals for the Kings.
The true hero of the night though is Jonathon Quick the goalie pictured above with an astonishing 35 saves some of which seemed humanly impossible. Quick who had to have two back surgeries over the off season is now playing at 110% and at this rate is well on his way to earning MVP again this year for the Stanley Cup.
Game two of the series will take place on Thursday were the Kings will attempt to make history starting of the series with two wins at home. Last night was the first game played at home for an opening series game since April of 1991, giving them a huge advantage as they refuse to lose at home. Tonight our attention will be on the Red Wings vs The Blackhawks. Stay frost hockey fans the Stanley Cup playoffs are in full swing.